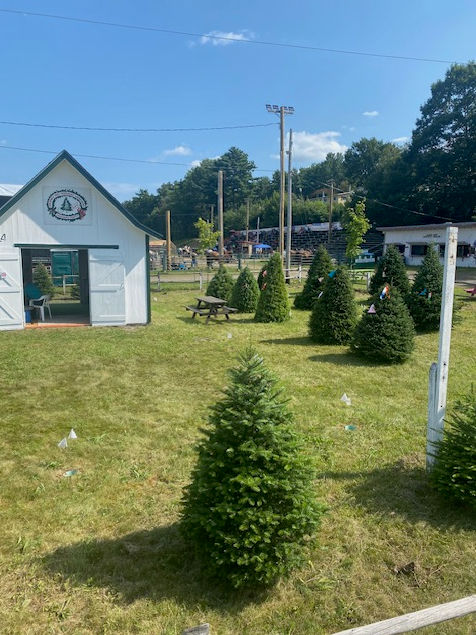 About Lunenburg County Christmas Tree
Producers' Association
We are the Lunenburg County Christmas Tree Producers Association, please don't let the name fool you, we have members from all over Nova Scotia and beyond. Our office is in the heart of Balsam Fir Country in New Germany, Nova Scotia.
Our mission is simple, to serve our membership in the ongoing development and the perpetual growing of Christmas Trees and greens in as natural a manner as possible. We strive to promote safe work practices and take serious care of our forests for today and into tomorrow.
Nova Scotia's relatively cool and moist climate is ideal for growing balsam fir trees. From the turn of the 20th century, growers in Lunenburg County have been harvesting and exporting these balsams fir trees for use as Christmas trees and wreaths.
Because of its lush foliage, fragrant aroma and superior needle retention, Nova Scotia Balsam Fir soon became the tree of choice throughout much of North America. By the 1950's annual exports had exceeded 3.5 million, half of which came from Lunenburg County.
Christmas trees and wreath making soon became a way of life of many Lunenburg County families and the knowledge and tradition was passed down from generation to generation.
Skilled growers practice natural stand management where "mother" or "seed trees" are left standing to provide replacement seedlings for the mature trees that are harvested. This process makes Lunenburg County unique in its ability to supply trees in a wide range of heights and grades. Trees 30 feet or more are quite often shipped to various markets.
The landowners work in harmony with nature to produce an all-natural, hand-crafted product that has become world renowned and trees and wreaths from Lunenburg are shipped to many parts of the world. Nova Scotia Balsam has truly become "the smell of Christmas"!
In 1995, Lunenburg County was officially recognized as the 'Balsam Fir Christmas Tree Capital of the World 'and this designation in turn helped to earn the county the 'Forest Capital of Canada' award in 1996.
Lunenburg County Christmas tree growers are very proud of their industry and as you enter Lunenburg County on Hwy #103, you will see a sign indicating you are entering the 'Balsam Fir Christmas Tree Capital of the World.'
We serve all of Nova Scotia and beyond and we certainly welcome new member inquiries!